The Akie property consists of 46 mineral claims covering an area of approximately 116km2 and is located in northeastern British Columbia within the geological district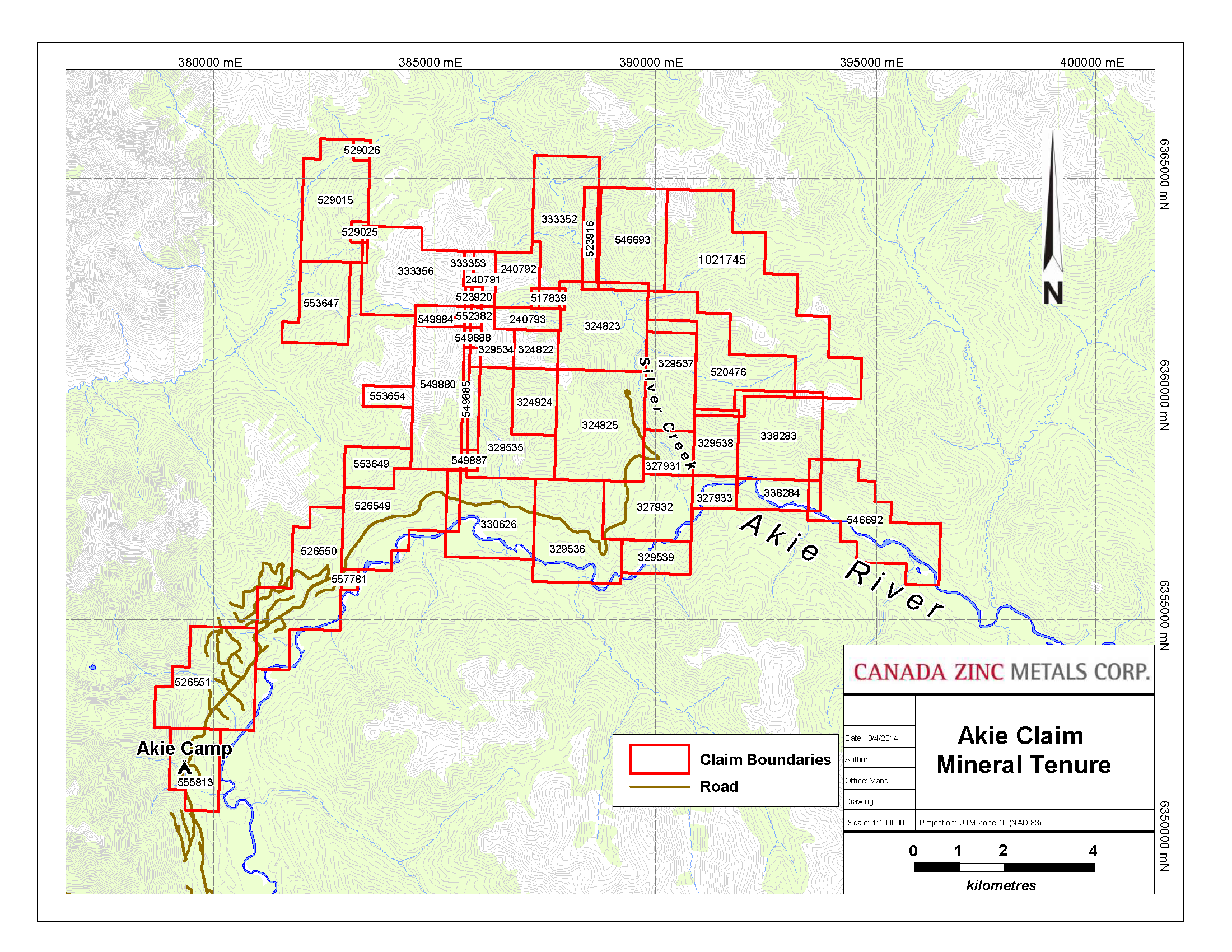 known as the Kechika Trough. The property is named after the Akie River which runs along the southeastern boundary. The property is underlain by the prospective black siliceous shales of the Gunsteel Formation and is host to the Cardiac Creek deposit, a large sediment hosted stratabound SEDEX type Zn-Pb-Ag deposit. In late 2005, the Company entered into an option agreement with Ecstall Mining to acquire a 65% interest in the Akie property. Subsequently the Company acquired 100% of Ecstall Mining via takeover in 2007. The Company maintains a 100% ownership of the Akie Project. Since late 2005 to present day the Company has conducted numerous exploration programs completing a substantial amount of drilling that has been focused on defining its primary asset, the Cardiac Creek deposit.
These drill campaigns have defined a significant body of mineralisation. The current resource consists of:
Estimate of Mineral Resources (5% Zinc cut-off)*
Contained Metal:
Category
Tonnes (million)
Zn (%)
Pb (%)
Ag (g/t)
Zn (Mlbs)
Pb (Mlbs)
Ag (Moz)
Indicated
22.7
8.32
1.61
14.1
4,162
804
10.3
Inferred
7.5
7.04
1.24
12.0
1,169
205
2.9
Note: Mineral resources are not mineral reserves because the economic viability has not been demonstrated.
Ken MacDonald, P.Geo., Vice President of Exploration, is the designated Qualified Person as defined by National Instrument 43-101 and is responsible for the technical information contained herein.
(*) Robert Sim, P.Geo., is an independent Qualified Person responsible for the information of Cardiac Creek mineral resources contained in this information. Mr. Sim also served as the Qualified Person responsible for the preparation of the 2016 NI 43-101 Technical Report on the Akie Project and is responsible for the maiden 2008 and updated 2012 mineral resource estimates for the Cardiac Creek deposit.